SAPLING
Onboarding Towards Success
PROBLEM
Sapling is an employee onboarding software service that provides growing companies a simple, intuitive, and consistent employee experience.

Even though onboarding involves many interactions between multiple people, the experience is disconnected and impersonal, which affects the mission to build a confident employee.

SOLUTION

A system of inclusion utilizes shared goals and transparency to encourage engagement and provide accountability and validation throughout the onboarding experience, leading to a confident and successful new employee.
ROLE
My responsibilities included product research, market research, user research, product strategy, usability testing, wireframing, and iterating. The team consisted of 2 UX designers, including myself.
The Nature of Onboarding
Sapling is a tool used during the transition period between recruitment and production, targeting the handoff of the employee from HR to management.
However, onboarding is not just about handing something or someone off—it is a group effort with a shared goal: the smooth transition from a new hire to a confident employee.
VS
The Common Problem

The three types of users that Sapling targets are HR, the new employee, and the manager. We built personas based off of 66 responses from interviews and surveys.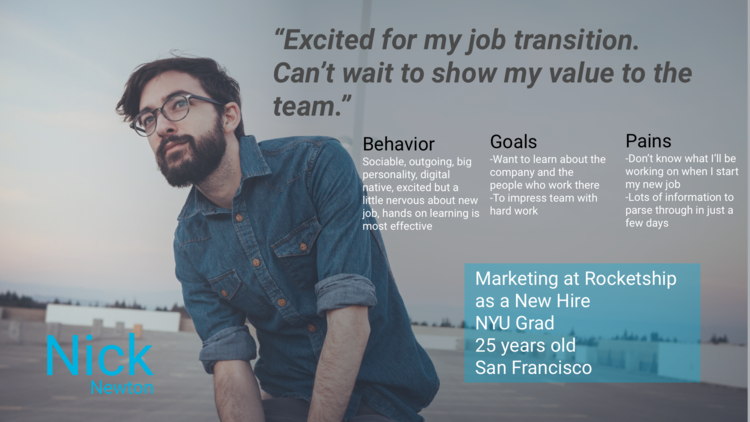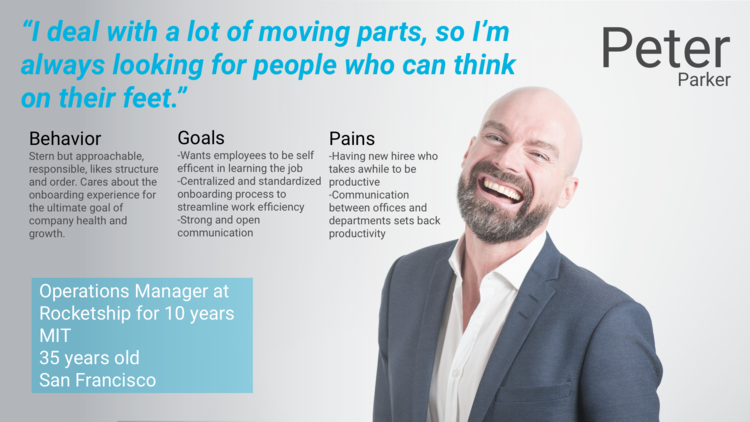 From the user research, we found that validation was the common pain point. For Nick to be a successful employee, all 3 must feel confident about his onboarding. This became the focus of our solution.
Joining A Team
Sapling can distinguish itself by being transparent about the handoffs involved in onboarding to make the experience smooth and consistent for all parties. It is not the progress of a document that needs to be tracked, but the progress of a new employee.
Our solution involves the 3 members working together throughout the onboarding process, rather than only at disparate points, if at all. By implementing a pending-approval system, Nick, Sarah, and Peter know exactly how well Nick is progressing through onboarding.
Testing The Concept

Users agreed that by involving other members in the process of onboarding, they felt more acknowledged by their future team and manager. We also received positive feedback about the satisfaction of getting a submitted tasked approved, even if it was a small task.
SARAH'S TASK
Onboard Nick

NICK'S TASK
Submit a task

PETER'S TASK
Approve a task
Sarah
onboards Nick, and assigns him to Peter's team.

Peter
gets a notification that Nick has been added to his team, and assigned him a specific workstream.
Nick
gets a notification that Peter has assigned a workstream to him, and he uploads a file to complete the task, which goes into "Pending" as it awaits Peter's approval.
Peter
gets a notification that Nick has submitted a task, and reviews and an approves Nick's material.
Nick
gets a notification that Peter has approved his submission, and sees his progress on his dashboard. Sarah and Peter can also track Nick's progress through their dashboards.