OH NO

Is This A Bad Tattoo?

PROBLEM
Inspired by the Mortens Lundsby and Just, I performed a design sprint around a topic that I am interested in but also don't take too seriously.

More and more people are getting tattoos, which means there are more and more bad tattoos waiting to happen. How can we prevent bad tattoos?
SOLUTION
A device that shocks the user if its user is drunk while entering the premise of a tattoo parlor will prevent the proliferation of bad tattoos.
Tattoos For Whom?
I learned about 3 types of users and their attitudes towards tattoos.
WITHOUT TATTOOS
(3 interviews)
Lots of criteria about good and bad tattoos—aesthetic, story, taste
Range of judgement, from apathetic to very critical
Little to no interest in getting a tattoo
WITH TATTOOS
(2 interviews + online research)
Happy and comfortable with choices
More artistically inclined
Would get more tattoos
Bad tattoos not a concern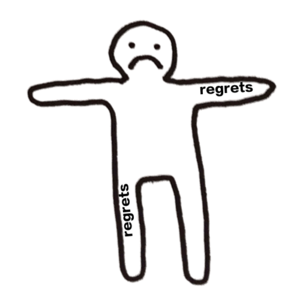 WITH TATTOOS AND REGRETS
(2 interviews + online research)
Majority of the stories involve being drunk, followed by being young
Varying stages of acceptance, but all were willing to share stories
Some would get more tattoos
My primary user was the young woman interested in but also nervous about tattoos.
How Bad Is It?
I conducted a quick ideation session. The top five were:
MITIGATING THE BADNESS
A reminder of the basics—spellcheck, recommended fonts to avoid, high risk bad tattoo areas, have you seen the tattoo artist's portfolio?, what would your mother think?, do you care?, etc.


MITIGATING THE JUDGEMENT
A "Humans with Bad Tattoos" version of "Humans of New York", since some stories saved tattoos from judgement.


WARNING THE PAST-SELF
A walkie-talkie that allows the user to send a warning back in time.


PREDICTING THE FUTURE
Predictive aging to see how the tattoo will look in so many years.


POSITIVE PUNISHMENT
Shock the user when on the premise of a tattoo parlor.

Are You Drunk?
Alcohol consumption is the most common reason people got bad tattoos in the first place, yet it is unreasonable to A) force people to not drink, B) predict the impulses of drunk people, and C) expect drunk people to successfully and thoroughly perform a task. Therefore, positive punishment would be the most effective method of preventing a bad tattoo.
However, my target user would not voluntarily agree to physical harm, so I tweaked the punishment to an alarming scream.
The scream could be an actual scream, a high-pitched or siren-like noise, or a recording of an extremely disappointed parental figure.
Next Steps
I couldn't get any volunteers to help test out the concept, which involved someone with an unwanted behavior, me following said person around (but out of sight), and me surprising and yelling at them when they started to indulge in said unwanted behavior.